SAVE THE DATE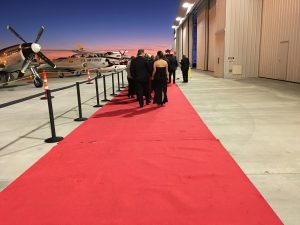 Join the Nevada Aerospace Hall of Fame at our 2018 enshrinement dinner and ceremony on Friday, November 9, 2018, at a venue to be announced. Nellis AFB will not host an open house this year, so join NVAHOF in kicking off the Veteran's Day weekend with its 9th "Oscar Night of Aerospace in Nevada" in the company of the USAF's Red Eagles, the USAF Red Hats, the CIA's Roadrunners, and the elite of civil aviation in Nevada. Honor our nation's veterans on Veterans' Day weekend in southern Nevada.
The Enshrinee Class of 2018 is L-R: Robert Broadbent – Clark County Director of Aviation, completed the McCarran 2000 project and made Las Vegas one of the nation's largest airports, CMSgt. Richard "Dick" Sinclair of the 6513th Test Squadron Red Hats Soviet MiG exploitation at Area 51 – 1968-1979, Lt Col Don Donohue Maintenance Officer at Area 51 and Founder of Las Vegas Airlines, and the 4477th Test and Evaluation Squadron, Red Eagles: America's Secret MiG Squadron at Tonopah, Nevada.
Joining the gala event will be many of the past enshrinees including the CIA's Area 51 Roadrunners who were enshrined in the NVAHOF last October. Enshrinee candidate Don Donohue was a Roadrunner at Area 51.
NVAHOF is a non-profit organization under Section 501 (c) (3) of the Internal Revenue Code of 1954 and received tax exempt status from the U.S. Internal Revenue Service.
Join our past donors in our making it possible to continue our mission of educating the public regarding the history of aviation in Nevada, the contribution of Nevada citizens to the development of global aviation and to preserve the legacy of those men and women who pioneered and advanced our nation's aerospace programs within the State of Nevada.
BECOME A CORPORATE CHAMPION $5,000
BECOME A CORPORATE PATRON: $2,500
CORPORATE FRIENDS: $1,000
INDIVIDUAL FRIENDS: $500
Individual Members and Sponsors are identified in the Members Section
Click here for more about donations.
If you have questions about supporting NVAHOF, you may call the Nevada Aerospace Hall of Fame Director at (702) 566-4168 or via e-mail at tdbarnes@nvahof.org.
Follow us.             Visit our online store:
| | | | | |
| --- | --- | --- | --- | --- |
| | | | | |