Mark the date: December 2, 2017
Clark County Aviation, NV Open House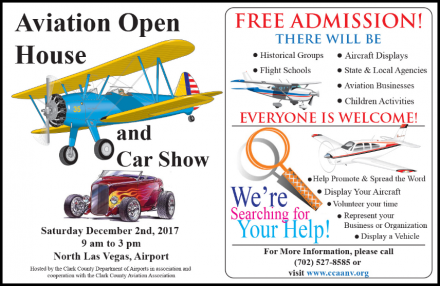 The NVAHOF staff welcomes its members and friends to join them for a pancake breakfast and a great day with old friends, new friends, and neighbors while mingling through the aviation and car show. This annual event is hosted by the Clark County Department of Airports and the Clark County Aviation Association. NVAHOF will have available for purchase the recently published book "Aviation Legends of the Battleborn State." All proceeds will go to support the Nevada Aerospace Hall of Fame. New members will have an opportunity to join the NVAHOF and participate in its recognizing and honoring those who contributed to the rich aviation and aerospace history of the Battle Born state.