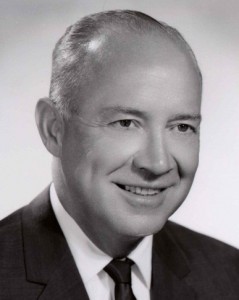 George E. Crockett was chosen for his contributions to private and commercial aviation in Southern Nevada.
In the 1920s and 1930s, aviation travel to widely spaced population centers in the plains states was growing as a quick alternative to conventional transportation systems that traditionally ran east to west. Salesmen for regional businesses began using airplanes to cover their territory more efficiently and this led to a demand for increased aviation services at key locations throughout the plains. This method of doing business had yet to reach the high desert southwest.
[Biography]
George E. Crockett was born on March 31, 1912 in Unionville, Missouri. He graduated from Unionville High School in 1928 and immediately entered Jefferson City Flight Aviation School in Jefferson City, Missouri, where he earned his pilot's license in the same year.
Crockett flew mail planes in the early 1930s, but by 1935 he was working in a grocery store in Nebraska and supplementing his income traveling to small towns to be the Master of Ceremonies for amateur talent shows. He presented himself well and showed a real knack at selling the shows.
The Wincharger Corporation of Sioux City, Iowa, hired Crockett in 1936 as a sales representative for their wind powered electrical generators. His route covered the southern U.S. and Cuba.They provided him with an aircraft and he flew from a state fair to another state fair, selling generators. Every farmer wanted two things: a radio and a Wincharger electrical generator to power it. Crockett had found his niche but soon realized that Federal government's rural electrification program would eventually eliminate the demand for his product line.
In 1940, Crockett began working for the Stinson Aircraft Corporation, selling their planes mostly to corporations and commercial airlines. One of his sales routes took him between Los Angeles and Salt Lake City. Florence Murphy remembered Crockett landing at the new airfield in Las Vegas and telling her that he was planning to spend the night. So, she invited him to an Aero Club meeting and dinner that night. Everyone had a good time and when they were leaving, Crockett reportedly said "You know, I like this town. I think I'll be back."
He was so impressed with the community that he relocated to Las Vegas shortly thereafter. He had purchased planes and equipment of an Iowa company that had gone out of business and leased land south of Las Vegas for an airfield. After clearing a dirt strip and building a "gas shack," Alamo Airport opened in 1942. During World War II, Crockett set up a training class for people wanting to ferry military aircraft from their point of manufacture to military bases in North and South America to help keep the airfield open.
Crockett quickly became involved in the development of aviation in Nevada. In 1945, he became a founder and the first president of the Nevada State Airmen Association (NSAA). The group was established to "centralize statewide ideas of aviation so that future legislation in Nevada can be directed by men who were experienced in the actual operation of airlines, training schools and in flying." Within two months of its founding, NSAA had more than 200 members.
In 1948, Crockett agreed to relinquish his right to a 99-year government lease, so that Clark County could acquire it to use as a new airport. In return, the county gave him a lease to continue operating Alamo Airport. The newly acquired county property later became McCarran International Airport. After the county completed their new terminal on South Las Vegas Boulevard and built permanent runways, Alamo Airport began to expand rapidly, eventually offering complete civil and charter services, aircraft sales, 24 hour line service, government approved maintenance shop, lodging, rental cars, and restaurant and lounge. Many of the pilots and staff had government clearances, so that they could support various classified programs located in southern Nevada.
In the 1950s, Alamo provided support to military aircraft involved in the above-ground nuclear testing program at the Nevada Test Site, northwest of Las Vegas. In 1959, Alamo supported the World Congress of Flight held in Las Vegas. The airline was also involved with the 1958-1959 World Endurance Flight, having sold a Cessna aircraft to the Hacienda Hotel, chalking the tires during takeoff, and assisting in refueling when the fuel truck was out of service. The last two activities involved using their now famous T-Bird ramp car. In 1964, Crockett became the president of the National Aviation Trades Association.
In 1967, Crockett sold his business to Howard Hughes' Summa Corporation.
George E. Crockett died on May 20, 1990 in Las Vegas, Nevada.