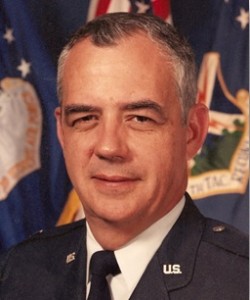 Gaillard R. Peck, Jr. was selected based upon his involvement in secretly training military fighter aircrews in an advanced joint training program using actual Soviet MiG jets.
[Highlight]
Initiated "Constant Peg" Program while in the Pentagon "Fighter Shop"
Second "Constant Peg" Commander at Nellis AFB and First Commander at Tonopah Test Range
163 combat missions over North Vietnam and Laos

[Biography]
Gaillard R. Peck, Jr. was born on October 31, 1940 in Fort Sam Houston, Texas. In 1958, he entered the Air Force Academy, graduating in 1962 with Bachelor of Science. He earned his pilot wings at Laughlin Air Force Base, Texas, graduating first in his class. Peck then served as an instructor pilot on T-33 and T-38 aircraft at Laughlin and Randolph Air Force Bases. In December 1967, Peck was undergoing F-4 gunnery school training at MacDill Air Force Base in preparation for deployment to Southeast Asia.
In August, 1968, Peck reported to the 433rd Tactical Fighter Squadron at Ubon Royal Thai Air Base, Thailand. Sorties ran the gamut from MiGs combat air patrol to missions interdicting movement of enemy supplies, manpower and equipment down the Ho Chi Minh Trail. While at Ubon, Peck flew 163 combat missions in the F-4D in North Vietnam and Laos, including over 50 night combat missions. In December 1969, he returned to MacDill AFB, FL for duty as an operational fighter pilot in the 46th TFS. After completing Fighter Weapons School in 1970 he returned to MacDill AFB and helped re-establish the RTU in the 27th TFS at MacDill.
In July 1972, Peck was assigned to the 414th FWS at Nellis Air Force Base as an air-to-air instructor in the Fighter Weapons School, and in 1974 he was selected to be the F-4 Air-to-Air Flight Commander. Peck attended Armed Forces Staff College in Norfolk, Virginia in early 1975 prior to reporting for duty in the Air Staff's "fighter shop" at the Pentagon. Initially, Peck managed operational aspects of fighter air-to-air and air-to-ground weapons and weapons systems. He was then moved into the position of AF Tactics Officer. In the unclassified world, he managed Red Flag and other overt programs. He also operated in the "black" world. It was in this capacity that he initiated a program named CONSTANT PEG (CP), a combination of his bosses' "call sign" Constant and the name of his wife Peggy. The mission of CONSTANT PEG was to train U.S. combat fighter aircrews on the best ways to fight and win when encountering Soviet-built aircrafts in aerial combat.
CP resulted in the enhancement of an airfield at the Tonopah Test Range and the initiation of jet fighter operations from that airfield with the 4477th Test and Evaluation Flight (TEF) flying both MiG-17s and MiG-21s. In 1978, Peck was selected to return to Nellis as an AF Aggressor pilot and 4477th TEF (Constant Peg) commander. He was the 2nd commander of the 4477th TEF at Nellis and the first commander at Tonopah. Peck took command on October 1, 1978 and embarked upon the task of supervising the completion of all aspects of "standing up" the 4477th TEF, including the completion of the airfield, the restoration of MiG aircraft, and the initiation of flight operations. During the time of active MiG operations, the 4477 TEF was changed to the 4477 Test and Evaluation Squadron (TES). Peck followed this assignment with ones in Saudi Arabia, Japan, and Germany.
On July 31, 1988, Peck retired from active duty with over 26 years of service. Peck currently lives in Las Vegas and serves as an academic instructor and subject matter expert at the USAF Weapons School.