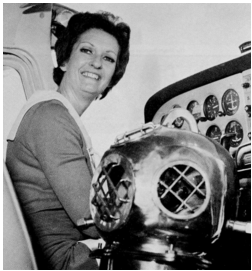 Kathleen Snaper has been inducted for her record setting flight below sea level as well as her efforts in the area of general aviation flight safety.
Kathleen M. Snaper was born Sept 8, 1939 in Minneapolis, MN. In the early 1940s, the family moved to Simi Valley, CA and her father found employment as an aircraft mechanic with Lockheed in Burbank, CA. After graduation from high school, she attended the Pasadena Playhouse to study dancing and then moved to Hollywood where she studied acting until she married and relocated to Las Vegas, NV in 1969 where she began raising two sons.
At the suggestion of a family friend, she took her first flight and when the pilot asked her when she wanted to start taking lessons, she said "Well, can I start tomorrow?" When she told her husband, he offered to pay for her flight lessons as an anniversary gift. She went on to obtain certificates for Commercial Pilot, Ground Instructor, Flight Instructor and Airline Transport Pilot. In addition, she is CFIAI Airplane Single & Multi-engine and Seaplane rated. In June 1977, she became a full time flight instructor operating out of the North Las Vegas Airport. She went on to become a Chief Flight Instructor at Southern Nevada's first FAA 141 certified flight school as well as Chief Pilot of FAA 135 compliant charter operations.
On July 9-12 1976, she successfully completed the last All-Women Transcontinental Air Race, better known as the Powder Puff Derby, covering a course from Sacramento, CA to Wilmington, DE. She had requested and received Racing Number 101 in honor of the U.S. Army 101st airborne Division her husband had served in. The Derby was discontinued after the race because of long-term financial losses but the aviators rallied together to create their own Air Race Classic in late 1976 that continues to this day. On June 24-27, 1978, she completed the first Air Race Classic covering the course from Las Vegas, NV to Destin, TX. Her last Air Race Classic was on June 19-22, 2007, from Oklahoma City, OK to Saint John, NB, Canada. She also flew in four Hayward Proficiency Air Races, the Palms to Pines Air Race, Pacific Air Race and Shirts & Skirts Air Race. She recently stated "I flew in as many races as I could afford."
In late 1978, she decided to establish a world record. After evaluating her options, the obvious choice would be to establish two, 1.) Endurance Below Sea Level and 2.) Distance In A Closed Circuit Below Sea Level, and Death Valley was the logical place to accomplish both. Initial contacts were made with the National Aeronautical Association to obtain official sanction of the effort, and to determine the category that the record would be under. Since no-one had ever attempted to establish a record below sea level, this would be in a class by itself. Additional coordination and approval from the Federal Aviation Administration and National Park Service was required but, eventually, everything came together.
On January 15, 1979, she lifted off the ground in a stock Cessna 172 flying out of the Furnace Creek Airport and proceeded to the marked closed circuit at the lowest point in Death Valley. She reported that "It was raining and there was a lot of turbulence….the most difficult task was to hold her air speed to a point where she could get through the turbulence and not rise above sea level." In addition, she had to hold her altitude to preclude gaining or losing more than ten feet during turns. While meeting the precision requirements was extremely tiring, she didn't realize how tiring until she landed and then began shaking from fatigue. After a quick dash to the restroom, she met with an official of the National Aeronautics Association who presented her with a certificate and a special set of pilot wings that included a diver's helmet in the center. She had flown below sea level for four hours and twenty-two minutes and covered 520 statute miles. The weather continued to deteriorate after the flight and she was not able to return to Las Vegas until the following day.
In 1984, she was one of the founders of the American Medical Support Flight Team (AMSFT), a non-profit organization that began as an alternate to the Arizona, California and Nevada Highway Patrol providing transport of fresh whole blood and blood products across state lines and from/to areas with emergencies. The AMSFT also began transporting needy patients and their families to hospitals and clinics in the southwest for specialized treatments.
Aircraft safety has been a major part of her life since she first began flying. She has always wanted student pilots to focus on their stick and rudder skills. She served as an FAA Safety Counselor and Southwest Safety Chairman for the Ninety-Nines, an organization of women pilots. She is currently the FAA Safety Team (FAASTeam) Lead Representative at the North Las Vegas Airport where she supports their Safer Skies Through Education mission. She also presents actual aviation accident case studies and leads attendee discussions on the importance of maintaining good aviator basics.
She has, on one occasion, been in an aviation situation that she was not prepared to handle. In February 1993, she, her husband and a business partner of his boarded a flight from Tyumen, Russia bound for St. Petersburg, Russia. She was seated near the front and the two men were seated in the back of the aircraft. The passenger in the seat next to Kathleen asked if she could practice her English on the flight and Kathleen agreed. Three hours into the flight a gentleman pushed the call button and, when the flight attendant approached, he pulled out a hand grenade and pulled the pin which he handed to the attendant. He then announced that he wanted to go to America. The plane diverted to Tallinn, Estonia to refuel. The price of the fuel was to be ten hostages and the hijacker decided to let the three Americans go first. When he told Kathleen she was to go, she insisted that her "translator" had to be included. He agreed and all four were released as part of the ten. The remaining hostages were later freed in Stockholm, Sweden.