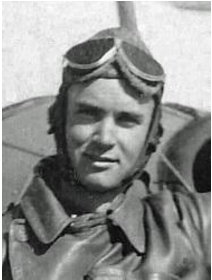 Stanhope Boggs has been inducted for his role in the successful implementation of United States transcontinental airmail service.
Boggs was born April 27, 1895, in Tucson, Arizona Territory. He began his aviation career with basic flight training at the School of Military Aeronautics at the University of California, Berkeley graduating in February 1918. He then transferred to Kelly Field, Texas where, upon completion of his training, he received his wings and was commissioned as a second lieutenant on June 20, 1918.
Boggs was then assigned to the Brooks Field, Texas School for Instructors where he completed the program on August 12, 1918, and returned to Kelly Field as an instructor. In July 1919, now–Captain Boggs was assigned to Mather Field in Sacramento, California where he flew "Forest Patrol" before leaving the service at the end of World War I. His flights were part of the first successful aerial forest fire patrol in the United States.
On August 2, 1920, he began flying routes for the U.S. Air Mail Service between College Park and Aberdeen, Maryland, Chicago and Minneapolis/St. Paul, and Chicago and New York. On August 17, 1920, while flying from Chicago to New York, Boggs had to make a forced landing in the Catskill Mountains, but resumed flying the following day. After returning to Chicago, over the next six days he flew from Chicago to Salt Lake City making stops along the way. The portion of the flight between Cheyenne and Salt Lake City required Boggs to fly over the Rocky Mountains where he reached an altitude of 13,000 feet above sea level in his open cockpit aircraft.
On September 9, 1920, Boggs flew the first transcontinental airmail service to Nevada, carrying five bags of mail, one for Elko, one for Reno, and three for his final stop, San Francisco. He did not encounter any problems flying from Salt Lake City to Reno, arriving at 12:50 pm. After circling the field multiple times to determine the wind's direction, he finally brought the aircraft in and taxied to the postal building at the airport. He then informed airport officials that it had been difficult to determine the wind's direction and that they needed to replace the small flag at the end of the runway with a larger one on top of the building.
The mayor of Reno, local postmaster, and others treated Boggs to a banquet in town before taking him back to the airport to resume his flight to San Francisco. Boggs climbed into the cockpit, fired up the engine, and took off to become the first person to fly the airmail over the Sierra Nevada Mountains. The total flight time required to fly from Salt Lake to San Francisco took only six hours and eight minutes.
After completing his record flight, Boggs settled into a routine series of flights between San Francisco and Reno, with an occasional flight to Mather Field. On one occasion, he flew from San Francisco to Elko and back, with stops in Reno. On another occasion, Boggs flew round-trip from San Francisco to Fallon with stops in Reno. While these flights were on a routine flightpath, that didn't mean they were uneventful. On December 28, 1920, Boggs reached an altitude of 18,000 feet above sea level on a flight from San Francisco to Reno, and on February 7, 1921, set a record of one hour and nineteen minutes flying from San Francisco to Reno.
Boggs also had to deal with in-flight emergencies. On January 4, 1921, at 7:10 am, he lifted off the fog– covered runway at San Francisco Airport, and began climbing in long, easy circles to rise above the fog. Then, at an altitude of 2,000 feet, the engine failed, and the aircraft stalled. Boggs tried to glide the aircraft to a safe landing area, but had to settle for one of the city streets. As he tore through the network of telephone and trolley wires, the plane burst into flames and came to a stop at the intersection of Gough and Hayes, four blocks from San Francisco's city hall. Boggs escaped uninjured and ran to a nearby fire alarm box to alert the local fire department. Although the aircraft was a total loss, Boggs and the firemen were able to save about half of the mail sacks that the plane had been carrying.
Just three days later, Boggs had to make an emergency landing at Mather Field because of a broken connecting rod in his Airco DH4 engine. His last flight for the U.S. Airmail Service was on March 19, 1921, when he flew round-trip from San Francisco to Reno. By now Boggs was showing signs of altitude sickness so he accepted a desk job as a manager. By 1928, he became a superintendent with the Airmail Service and by 1930 Boggs had been reclassified as an airways engineer.
On September 3, 1935, the Oakland Tribune reported that Boggs had "been engaged in airway work in many parts of the country" and had recently been "appointed assistant manager of the Sixth Air Navigation District," a branch of the Civil Aeronautics Authority (later to become the Federal Aviation Administration). Boggs continued to work for the Federal Aviation Administration until his retirement from federal service. He died June 20, 1971 in Santa Monica, California.